Today morning I started out to try my luck and to have a few words with Jason. At 8 o'clock a.m. I was at Károlyi park and I saw him for a moment, but that area was strictly closed down, it seemed impossible to get closer to them.

Not far from me stood four members of a German/English Viggo fangirl team, who behave rather foolishly, and it made the people in the cast mad. With reason.
They were hanging from the fence, made pictures nearly with tele-lenses.
The guards looked at me angryly as well, but I tried to stay away from the gang to show that I have nothing to do with them.

Then that street where I had been standing was closed and I had to leave.



Around half past 12 Daisy arrived and the street was opened again, we were allowed to the fence, I blew up the balloon and waited.

Sometimes it seemed he was looking in our direction but we didn't trust in that much. After an hour everyone went to have lunch and I was pondering on whether to catch him because that was the right moment. Then I was obsessed by a feeling that grew bigger and bigger in me that I had to go to the café that belonged to the garden.

I told Daisy to go and we left, then we entered through the gate into the building, I looked round where to go next ( I thought we might have a coffee or something) and then from the left a door opened and I looked straight into the eyes of Jason.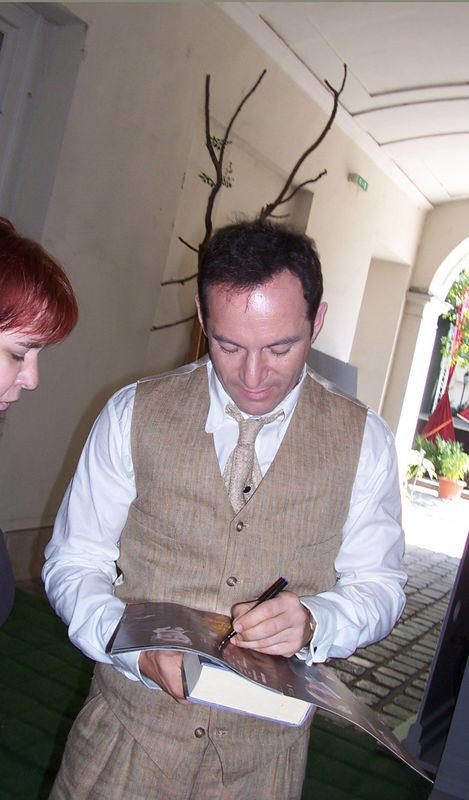 I was frozen for a moment, he looked at me and he almost saw it in my face that this woman

is a bit nuts but he said a casual 'Hi!' and I said:
- Hi Jason!
He kept on going and we shouted very loudly:
- JASON!
He smiled at us (I guess he did not understand yet who we were and what we wanted).

Daisy told him that we would like to have a few words with him, I waved the blue balloon. He grinned and said:
- Ohhhhh, the blue balloon, the FanZone, I can't believe it.
Daisy introduced herself, I also shook his hands and I whispered my name with that little English I know. My hands were shaking so that I just can't explain.
Daisy introduced me that I am the one who owns the only Hungarian JI homepage, he smiled again:
- I can't believe that I have a homepage here.
I handed his birthday

present, a Tokay aszu (it is a very remarkable wine) and a short letter written on a postcard which he found very moving.

He asked the URL of the homepage and we told him it was in the letter and he promised he would take a look at it, actually, he did not promise, he stated it.
I gave a HP5 sticker album to him and asked an autograph for my son. Then it was my turn, I asked one into my Half Blood Prince.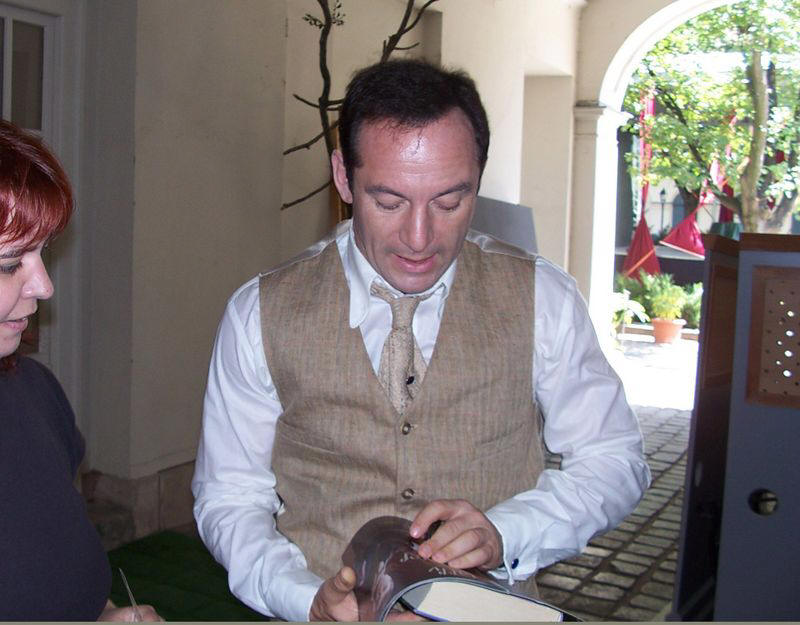 In the meanwhile I said I am sorry that I don't speak English
, only Turkish. He said, not to sorry, because he doesn't speak Hungarian either.

Then he asked if my boyfriend was Turkish. I told him that it was my ex-husband, he hissed and said 'OK, let's leave it.'

He asked us how we had got info about the shooting and Daisy told him it was me who had been investigating for a month. I got an appreciative look.

He told us he had to go, he had no time, because he wanted to make some changes in the following scene and planned to discuss this with the director/producer. But he stayed and was chatting with us for half an hour LOL



We asked him if we could make pictures together, he said yes, as many as we can. After giving autographs he stood beside me, put his hand on my shoulder, I put an arm around his waist to make a photo of us, but then he suggested to go outside because the brightness might be better there.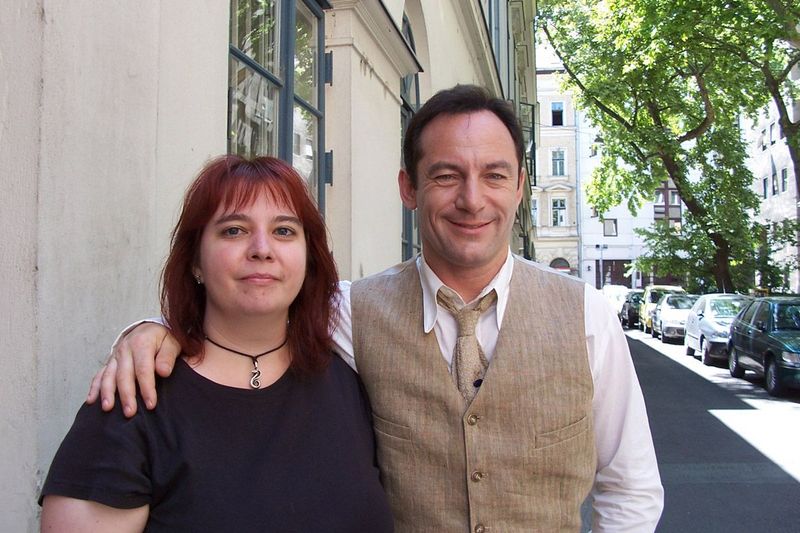 The photos were done and Daisy told him that we want to ask him something complicated. He looked quite puzzled. Daisy took out an exercise book and asked him if he would be in for a bit of fun – to read out a Hungarian sentence for the readers of Lumos.hu .
- Don't do that to me! – he laughed.

- It is written phonetically.
Daisy told him what it was all about, how would it sound and he corrected the sentence a bit.
- I hope I haven't just given you my whole fortune – he said, smiled and done the job perfectly.





VIDEO

Then he said OK, let's do the interview.

Our first question was about Budapest, whether he had a general idea of it or not.
He said he hadn't seen much cause he had had to go back to shoot Brotherhood in the US. But he went to Szechenyi bath, he ate in numerous restaurants and he also visited the House of Terror Museum because he needed to have a deeper understanding about the topic of the film. (those who have no idea what it is all about, click here.)

He told us that seeing the holes of bullets in the walls of houses in the capital made him very upset because it is terrible to know that there were hundreds of people, dying or wounded, who had been dragged away on these streets and he could almost see their blood.
Daisy asked him about his origins whether being so touched by history means something personal for him and he said Yes, he has Jewish roots. Daisy told him that she is half Jewish too.
Jason answered that 50 years ago it wouldn't have counted anything, they both would have been put on the carriages (Brrr, it is terrible to think of it

)

I asked him whether his grandparents or great grandparents had been really born in Eastern-Europe and he confirmed that, although he has no idea which country had they come from. He mentioned Poland but when we asked him about Hungary he said it is also possible.



He went on a sightseeing tour by bus and the guide told him there that Hungary has the third biggest Parliament and that they might think why should a small country like that have such a big Parliament, but they must understand that Hungary hasn't been that small before WW1. Jason said he thought about that and realized it must be very sad for us.
Hungarians really don't speak that much English which is bad for him, for he would be happier to make himself understood more easily, but on the other hand it is good because he took it as a special way of Hungarians and finds it very unique that people here are not totally impressed by actors, by shootings, in contrast with Los Angeles where soft solder is general but he hates it.

We asked him whether he can go to a HP5 premiere but he said no, unfortunately, he would be working. He told us that he arrived the day before, the next day he was to shoot in Budapest, then he planned to go to Lake Balaton on Thursday, then the film is over. I mentioned that Lake Balaton is really beautiful, he would like it, then it turned out he had been here in the 90s at Balaton, then they had gone to Croatia, the producer had decided that. They had called the British Embassy if it was safe to go there, they said 'Yes, it is safe, no fights there.' When they had finished shooting and had left, a week later the crisis in Kosovo started…

He told us that he would have loved if the girls could come with him, but concerning the topic of the film he decided no to bring them.
We congratulated to his daughters, but he said we should do it later when they turn out to be really good people.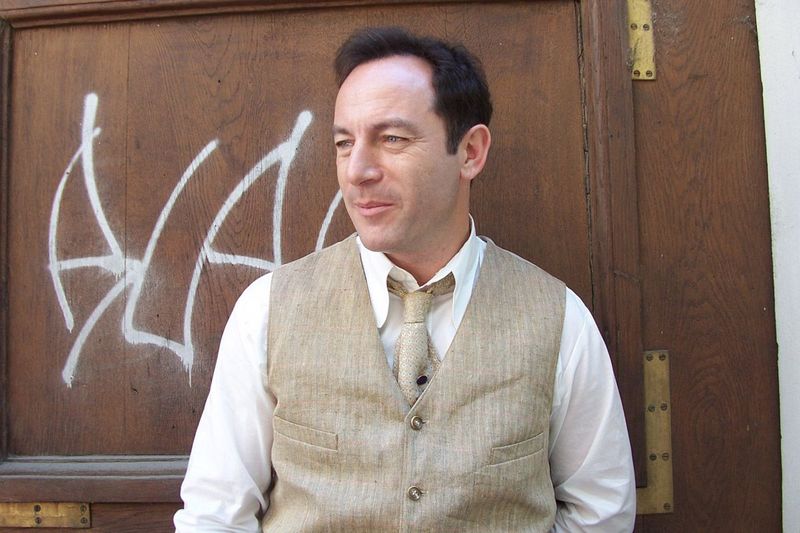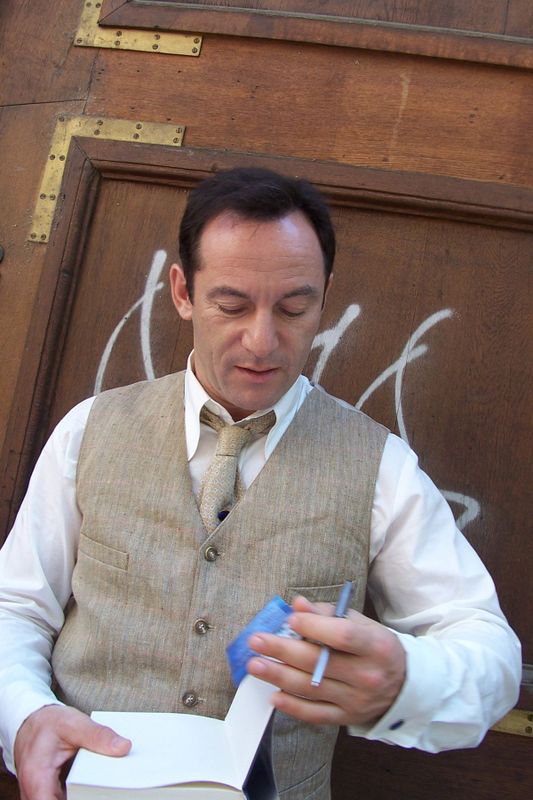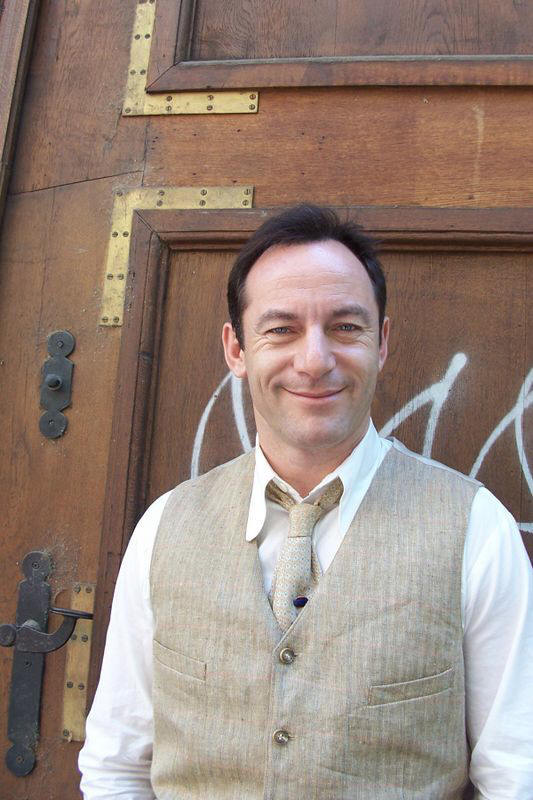 Then Szafije came up to us, said hello to everyone including Jason:
- Hi Jason!
Jason laughed nicely and asked her
- Hi, who are you?
Oh, we laughed!

Szafije did it so casually like someone who meets celebrities every day. LOL

Then came the questions about Harry Potter.
He asked us why we hadn't gone out to see a HP shooting cause there are possibilities like that but we told him it is impossible for us to do that. We wouldn't even have a place on the list.
We complained how scarcely we have PR stuff on HP. He answered he hadn't got any kind of connection to this, not even could he get into film number six. LOL In fact, he doesn't understand if there are no dementors in Azkaban than what is he, Lucius Malfoy doing there anyway. MEGA LOL

Does Lucius and Draco die in the end?
He thinks they don't because they are not so important in the storyline but he guesses Ron and Hermione might die. He told us he knows a secret which was said to him by JKR but he wouldn't tell us cause we are hardcore HP fanatics. And he thinks Snape is good.



During shooting HP5 he had a long scene with Gary Oldman but it was cut considerably, and he knows this because he saw his own scenes at post production synch.
He does not meet Cornelius Fudge at the beginning of the film. We don't know whether it is true but reportedly they made a scene with Gary Oldman where Lucius is sitting or standing (I don't quite remember of that), with two dogs around them. He hopes it will be on the DVD extras. Maybe this is really true and he just didn't make fun of us


I showed him the picture of Lucius where he is holding the prophecy in his hands and Daisy asked why is it in his hands for it is not like in the book.
- the book and the film are different – he said – Look at his book – he said pointing to the book in Szafije's hand – look how thick it is and they had to make 100 pages of script of it.
HP shooting is great, he loves it and he wants to be in it again.
I assured him that our desire is the same.

Those who read the homepage regularly know that Jason loves swearing so I asked him if he had learnt anything nice in Hungarian.
He waved no and asked us to teach something for him.


We decided with Daisy to teach him the Hungarian equivalent of F*** you, because it can be easily remembered by the English words of Buzz and Meg.
His Hungarian pronunciation is superb!





We said goodbye and he thanked me to have a homepage on him.



PS
Jason is a fantastic person, a lot of people had already said that, we read about him, but this was the first occasion when I lived it through. When Daisy told him he is very informal with us he said because he is normal. And it is true – we didn't have a conversation with some kind of lofty star but with someone who really didn't take us as something compulsory. He felt good, laughed a lot, told stories. I feel and I know that there is no such person as him in his profession and I ask God to keep him for his family for a long time and for us of course.

Andrea


~~~~~~~~~~~~~~~~~~~~~~~~~~~~~~~~~~~~~~~~~~~~~~~~~~~~~~~~~~~~~~~~~~~~~~~~~~~~~~~~~~~~~~~~~~~~~~~~~~~~~~~~~~~~
This encounter was originally posted at Jason's FanZone. Andrea was very generous to let me host the incredible story here as well.