I am finally going to tell my awesome encounter with Jason. I lived in Providence my whole childhood.
When I moved away as an adult, my dad and brother still lived in the apartments that we lived in. Well,
one day my dad called me and said that they were filming a show on the next street over from where we lived ... Carpenter St.
So I went down there with my little one and walked around and saw some shooting.
Well, on the next street, Battey St. ... Jason was rehearsing a scene just unofficially going over it with Stivi Paskoski.
I remember the scene from the first brotherhood episode where they are looking in the truck of the car when Michael returns and Pete lets him know that all is there. Now Jason has a hat on in this scene so I didn't even recognize him. Like I said, they were just going over some stuff and there were no cameras around or anything. So they are laughing. Carts of fruit and danishes around ... bits of crew here and there roaming around. So we go by the fence and watch them a bit.
Then I realize that it is him. I asked my dad (who is no shy fella) if he would call Jason over. He did and I shook hands with him and talked a bit about Providence and how my house that I grew up in was like ...two houses away from that garage. He bent down and touched my daughter's cheek ... she has huge eyes and he said she was lovely.
She didn't know who he was until I told her that he was Lucius Malfoy from Harry Potter ... her eyes got all wide. He laughed.
He apologized for having to cut us short but told us to get a snack and off he went ...
I HAD NO CAMERA!

I stood there for like minutes realizing what just happened! So that night, my daughter of course blabs her mouth to her brother
that she met Lucius Malfoy ... well, he went NUTS. So I told my dad that the next time he finds out where they are shooting to call me.
A few days later, he called and told me that they were filming at the Green Bar on Westminster St. Which is right across from the middle school I attended. SO I packed the kids in the car, son in his Harry Potter shirt, with his Chamber of Secrets Book in hand and off we went. I parked a few streets away and walked on to the set. The director was so nice. It was beginning to sprinkle so what little crowd that was there had left because all the filming was being done inside anyway. One of the ladies who seemed to be running things for the crew saw us and asked us how we were. I asked if she knew if Jason Isaacs was coming on to the set this evening cause the kids wanted him to sign their book. She said that she expected him soon.

She said we could wait under the tent as long as we were very quiet. We got to go behind the director and see all the shots being done and the kids were awesome. It looks like daytime in the show but it was beginning to be night ... you would be surprised how they make it look like it was day. I mean they had HUGE lights ... it was amazing. We were waiting for an hour and still no sign ... now 6pm on a school night, raining a bit harder, getting dark and the kids are hungry. Someone got us some snacks for the kids and some water. Still we waited. We had a great time though. The lady became anxious because they were waiting for Jason too and wondering what was holding him up. She kept apologizing. She called someone and told them that there were two kids who have been waiting for a few hours for him. She smiled and said that it would be soon. In the meantime, we met Ethan Embry ... who looked like he was all set with his day. He was nice and polite but looked like he was tired. So then ... she came up to us and said "Jason just arrived" I was like "okay, we will wait here, just let us know" ... she said "oh, no, he wants you to go up to his trailer" I was like "WHAT" ... so we walked up the road a bit and crossed the street and his trailer was parked in front of my old middle school. By now it was dark, but the kids were still in a good mood. They had pictures for him that they had made to give him. SO we get there and out he steps from his trailer. The kids were like "wow". He smiled and came over to me and shook my hand and thanked me so much for waiting for him.
I HAD MY CAMERA THIS TIME! He bent down and hugged each of the kids and they handed him their pictures ... he was so delighted. He said "I am going to put them right in my trailer on my little fridge" Hailey began to complain about being thirsty and Jason asked me what was the matter. I told him she was thirsty but that she would be alright. He said "I would give you some of my water, honey but I have a bit of a scratch in my throat ... hold on, I will get you a bottle from inside"
So he went in and got her a bottle of Poland Springs. Ask me if I have thrown that bottle away ... NOOOO! LOL She was all shy and
thankful. Then my son handed him his Harry Potter book. Jason opened it and began writing in this awesome "dragon"-type writing ... very fancy and time consuming. Meanwhile, they are STILL waiting for him on the set ... but he didn't care. It was all about making my kids happy. My heart was so joyful. The woman was kind of eye-balling him to hurry and he didn't care. I don't have a picture of what he signed in the inside of the book, I am having my mother take a picture of it and will send it along soon. It said something like "Hunter and Hailey, Beware of strange wizards with long white hair! - Jason Isaacs"

So then it was picture time. I took a picture of the three of them and didn't really want one of me... I was all wet and looked awful ... it
was muggy too that day. But he was not going to have that. He handed the camera to the girl and she took one. Jason looked at it and he said "no ... that one is crappy ... take one more" I nearly died laughing. So we talked a bit and the kids asked him some more
questions and he laughed and thought the kids were funny and he said it was the best thing that had happened to him all week. I tried not to act like a stupid, lunatic, star-struck fan ... I think I did an awesome job. The kids we so great! But I did have to say to him
"man, when you burned that church down with all those people in it in the Patriot ... that was cold, man" He laughed out loud ... and said "ya know between that and shooting the kid, I will never hear the end of it" I said he was a damn good bad guy. We all got a hug, a handshake and a little peck on the cheek. He walked with us across the road and waved as we walked to our car on the next street. I sent him a copy of the picture ... I had heard at the time that he was staying at the Biltmore Hotel. I never heard word but never got it back in the mail so I am hoping he got it along with a letter of thanks for a wonderful evening that me or my kids would never forget.and that accent .... AAAAAAAAAAAAAAAHHHHHHHHHHHHHHHHHHHH! It was superb. I almost lost it a few times but stayed cool. I think he liked that I didn't fawn all over him. I think I felt more comfortable because the surroundings were so familiar to me, after all he was on my turf LOL..... I mean my middle school for Pete's sake.
We didn't get a chance to see him again but hoping to catch up with him next time. ... and he did remember me from our first meeting on Carpenter St.... he remembered my daughter's eyes actually. Yay, for the kids LOL
So I am sending all the pictures from that day. Enjoy them!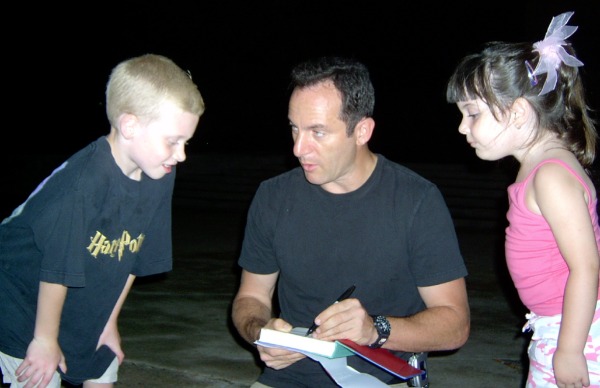 Hope all is well with everyone.
Tami