Meredith: Nice to see you.
Elisabeth: Kisses all around.
Jeremy: And by the way, I do not cheat on girls (putting his hands up defensively)
Elisabeth: Yeah, donít cheat on girls.
Jason: What I wanna know is who do you think these married men are having affairs with? Itís married women (arches eyebrows and shrugs)
Meredith: Probably
Joy: If theyíre smart.
Star: Ya think? Married women? NotÖ
Jason: I donít (puts hand on chest defensively). I have no personal experience of that. Iím just-
Joy: Right, exactly.
Jason: Someone said that backstage (points backstage), I donít know.
Joy: Well, if theyíre smart, because otherwise the single women want to get married.
Jason: Thatís right.
Joy: Right (nodding)
Jeremy: I wanna get married.
Jason: (turns to Joy) And theyíll tell.
Meredith: You wanna get married?
(Jeremy nods)
Elisabeth: You had some practice. You had a little kiss in this film. (Smiles)
Jeremy: Well (leaning forward and putting his hands between his knees) that was good. That was fun (trying to hold in a smile while the audience laughs)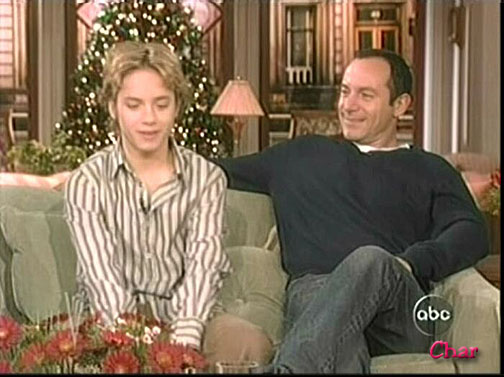 (Jason is watching him this whole time, smiling, and biting his lower lip)